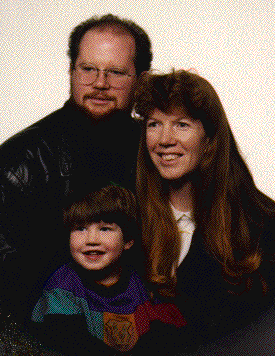 The Hall Family's Home Page
---
---
Thank you for coming to visit! Take a look around; and if you have any comments be sure to get back to us.
News
---
We're the proud owners of Sensation! Services in Shingle Springs, California, USA -- a computer consulting, writing, editing, and Web site development firm.
Marc is currently seeking a new long-term project, but has previously been the Webmaster of the Association of California School Administrators' award-winning Web site. He also wrote a column, "TechWatch," for the association's magazine, Thrust for Educational Leadership. After that, he spent nearly three years working for WorldCom, a company that nearly everyone has heard of recently. However, he was laid off (along with 5000 others) in February, 2003.
He is the former editor of:
The CASH Register, the monthly newsletter of the Coalition for Adequate School Housing in Sacramento, California. Marc also coordinated the C.A.S.H. Web site.
The Green Pages: California's School Business Directory.
Jan formerly taught sixth, seventh, and eighth grade students at a variety of schools in the Sacramento City Unified School District and for Horizon Instructional Systems charter school. Now, however, she's a full-time mom and part-time teacher at the Shingle Springs Campus of the California Montessori Project.
We are the proud parents of two sons, Bryan and Thomas, and one daughter, Melody.
Our favorite Web sites represent an eclectic mix of political and computer-related subjects.
Check out Marc's resume.
---
This page was created and edited in HomeSite 4.0 and is designed for fourth generation browsers.