Thu, 01 Sep 2016
Winter semester 2016
Christmas of 2015 Bryan and I both came home from college. We went and visited Grandma and Uncle Wayne in Fresno.


Otherwise our Christmas was celebrated in Las Vegas.
And we took a family photo. Just one with my camera on a timer, but we needed a new one so this is it. Over winter break we did go take a professionally done family photo at Penny's but I don't have that one.

Soon after New Years, Bryan and I both left for school again.
Stacy and I had been roommates fall semester but she was off track for winter semester, so it was just Austen and I left plus 4 new girl's. We got a new Kayla, Kayla Olsen, Sam, Karlie, and my new roommate Giselle. Giselle loves to read and also loves anime just like me so it was good. She's now preparing to serve a mission. Kayla Keiser is currently at the MTC preparing to serve her mission in Japan.
I mentioned many months ago that I went to see Mary Poppins at the local high school with some friends from my American Foundations class. One of those friends, Calvin Garrett, was kind enough to drive me down to Provo at the end of the fall semester, and we texted over winter break and set up a game night for when we got back to school. Then we ended up going to I-Night (the evening after move in day, there's a bunch of fun activities and people to meet) together and it ended up being a lot of fun. We ran into people we knew from the fall semester and also some of my new roommates. We played laser tag, went roller skating, listened (but did not sing) to karaoke, and played in bounce houses. It ended up being a date and we turned our game night into a date too. We went on a few more dates in that coming week and studied together on campus a lot and soon we were boyfriend and girlfriend.
We were both super busy with classes. I was working on color and design homework a lot of the time and it was crazy and took everything back to the basics. The color wheel and color schemes were popular topics in this class.

All of the final products we made were in paint. We had to paint a lot of squares/rectangles of color and then cut it out and paste it on to the template. We were able to create our own designs eventually. Everyone had to create lots and lots of thumbnails. Here's some of mine.
These particular ones were done near the end of the semester. We had to pick our best design to enlarge and paint in a color scheme of our choice. Can you tell which design I chose?
This was another piece I did for this class:
These images were scanned into my computer, at a very good resolution, so I don't know why they are so small and bad quality.
Over Valentines Day we had a three day weekend so Bryan came up from Provo to visit and meet Calvin. I made muffins so we could have real breakfast and I got him a place to stay over in the guys apartments in Building C
We ended up driving just out of town and going shooting and then we built a snowman and used shell casings that were on the ground for the eyes, nose, mouth, and buttons. We even gave it hair and arms.

For Valentine's Day Calvin and I didn't really do anything, but we went on a date right before because we knew my brother was coming up. But I painted him this dragon and he gave me the rose.

Throughout the semester my roommate Giselle would have a couple of friends from back home over for Friday movie nights. Eventually this turned into Avatar night. We watched all three seasons of Avatar: The Last Airbender throughout the semester. We being: Giselle, her friend (and eventually boyfriend) Antonio and his friend Dean and occasionally his girlfriend Holly, and Calvin, and I. As the series was nearing the end Giselle and I planned an Avatar party and we made "fruit pies" and decorated the apartment and for the season finale we had food and mourned the end of Avatar… for a children's show that's kind of sad…..
The fruit pies were delicious!!! I loved the peach ones.We made Peach, Strawberry, Lemon, and Blueberry. All of them were excellent.
These are supposed to be flames…. As in Fire Nation… but you'll probably only understand if you've seen the show.
As we continued dating Calvin and I started talking about getting married. He proposed on his birthday March 15th. He took me to the temple and asked me there. I think that it was cute. It was also my roommate's Kayla birthday on the 15th as well so I baked a cake and made some cake pops.
Okay so not really cake pops, but sort of improvised cake pops. Sam and Karlie bought Kayla a couple new shirts which was nice. At the beginning of the semester Sam turned 18 and at some point Karlie turned 20. But on March 15th Kayla turned 19 and Calvin turned 22.
Calvin gave me a very simple, beautiful ring. We kind of picked it out together. Later he got me a ring different, beautiful ring, and I got him a ring too.
Then it was Easter and on Saturday Calvin and I went to a ward activity in his ward and we dyed eggs and had Jimmy Johns for lunch. That was fun.

I won a chocolate bunny for one of my eggs.
I think it was for the variegated one with the swirls on it.
The next day was Sunday and we went down to Blackfoot for Easter Dinner with Calvin's family. I made the rolls that I always do, and dinner was delicious.
Somewhere in here was General Conference. I made the traditional cinnamon rolls, which were also delicious, and Calvin and I ate them with my roommates and his roommates. I made an Oreo frosting icing to go over the top. I seem to really enjoy making food (and eating it… hehe).
Calvin and I went to the Snow building to watch the school's production of Peter and the Starcatcher which is based of the book Peter and the Starcatchers by Dave Barry and Ridley Pearson. I'd been wanting to see it since I heard about it back in high school. It was pretty good, but I was a little disappointed since I had been awaiting it for a while. Since I had read the books it was much easier for me to follow than for Calvin who hadn't. They took the book and turned it into quite an abstract idea.

For my Eternal Families religion class we had to do final projects that took at least 10 hours and we had to explain how we made whatever we made, why it took 10 hours, how we were going to incorporate it into our homes and something we learned how to do while working on the project. My project easily took ten hours. A lot of it was spent in the store deciding what materials I would use for my project. Here's almost the final product.

I got metal sheets and a little chalk board and glued them to the wood and got little glass gems, paper, and magnets to make little decorative magnets for the metal sheets and I sewed a blue and green and grey bag together to keep little pieces of chalk together. And then I had Calvin help me put the little hooks in the bottom because I tried to do just one and ended up with a blister and it took me at least a half hour to get just one screw in. Calvin put the other three in half the amount of time it took me to do one. I also ended up spelling out HOME on the upper right corner using wooden letter blocks. On the back I used a wood burner and burned Families are Forever into the wood. And the quote on the front is done with vinyl lettering.
That was my final project for religion, but for art history I also had to make something. We had to pick a work of art or a time period to base our project off of. Many people made rice crispy treat sculptures of cathedrals and the pyramid, I chose the cave painting style of art and attempted to use my graduation gift ( a Wacom tablet that you hook up to your computer to do drawings on your computer) to make a cave drawing of the cover of The Lion King. It didn't work very well, but I still got a decent grade on the final project. I got parts of it right, but the lion was just too difficult.
Then it was the end of the semester. I baked a cake to celebrate. I decided to be a bit silly with it.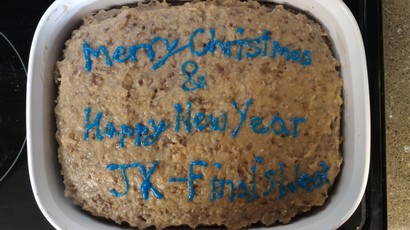 It says "Merry Christmas & Happy New Year JK - Final's Week"
It was chocolate cake with pecan frosting. It was going to be delicious, but I had a stomach ache when I made it so I didn't eat any and I needed to get rid of it so I could wash the pan and pack up my room because I was going back to Las Vegas to work for the Summer before Calvin and I got married. So I left some on a plate for my roommates and then took some across the hall and then I took the rest down to the first floor to my cousin Victoria's apartment and gave them some also. Looking back it's a shame I never got any.

Finals were over and I had been trying to find a ride home on Zimride, but had been unsuccessful. So Calvin offered to take me all the way home since Bryan and I got out of school at different times and he had decided to stay in Provo for the summer and keep his job. So Calvin drove me all the way home at the end of the semester. His parents Gaylen and Bobbie came along too so that Calvin's and my parents could meet. On the way down we stopped at Cove Fort and Calvin's dad, Gaylen, took some pictures of us since we had been unable to do so ourselves throughout the semester.
This is one of my favorites.
Calvin and I were not thrilled about having to spend the summer apart, but in the end we were convinced that that would be best. We would be able to save for our marriage and for college, as well as get to know each other better while being apart. We planned to visit each other multiple times throughout the summer so we were just hoping that those visits would end up panning out (they did).
Mom was finishing up her Masters program as well as her regular teaching job at one of the many local high schools in Las Vegas. So she was busy, busy. Thomas was in a school play. so when I got back for the summer I was able to see that. Game of Tiaras it was called. Having previously gone to the same school I was also able to see some old friends in it as well.
I'll try to update more later, but this was most of my winter semester at college. Now it's time for summer. Brief summery (and spoilers haha): I got a job working nights at Wal-Mart, Calvin and I planned our wedding, Mom got her Master's (YAY!!!), Bryan and Thomas both had birthday's in May, my mom and I took several trips including a couple to Mount Charleston, a couple to Utah and one to the beach, more wedding planning, the 4th of July, Sunday dinners with Lara, and my wedding on August 5th.
posted at: 18:49 | permanent link to this entry
---
Wed, 30 Dec 2015
The end of the semester and winter break
So I guess I've pretty much written about everything until just after Thanksgiving. This is going to be just a list of things that happened this semester.
I went with my roommates and several other people to the Civil Defense caves that are outside of town. There we pretty much just explored the caves with flashlights. We brought glow sticks with us and when we got deep into the caves some of them broke the sticks and splattered them all over the cave ceiling and ground. I have no pictures of that, but it was fun. The road took us out on some interesting roads that had mostly frozen puddles on them. I was in a car with Megan, who was driving, and she tried not to drive through the muddy slush, but at one point was unsuccessful. So we were stuck in the ditch and so we all got out to push and so we soon got out but not without getting mud all over the outside of the car.
Another time that a car was stuck in the snow /ice was when Erica rented the enterprise car that was parked in our apartment parking lot. So we all came down to the parking lot from the apartment to help push the car out. None of us could get the car unstuck. An older man came by and offered his assistance and then promptly told us that the parking break was still on….. I didn't even think to check that because I always have to take off the parking break to go anywhere because I normally park on the slant of the driveway so I just assumed that she'd taken it off….. Erica apparently never puts the parking break on so didn't think of checking it either…. So technically the car wasn't stuck in the snow/ice, the breaks were just on….
So after that funny story, what else happened this semester? I seem to have a terrible memory so I'm just going to post a few scans of art from my drawing class this semester. This first one though was not for my art class. I just wanted to do it this past summer so I started it over the summer and then finished it a couple of weeks into the semester. It's Anakin Skywalker from the Star Wars movies.

This one's just a line drawing of a clock.


posted at: 23:10 | permanent link to this entry
---
The end of the semester
So the semester is over and Christmas break will also be over soon. But since the last time I posted many more things have happened. I know that's normally what happens with the passage of time. Surprise! Anyway, stuffs happened.
posted at: 22:20 | permanent link to this entry
---
Tue, 15 Dec 2015
First Semester
I need to post more pictures. Since Halloween several things has have happened. One I went to go see Mary Poppins at the local high school with Calvin and Landon. They are both in my American Foundations group. All of our group was going to go but then a bunch of us ended up not being able to.

It's snowed several times

This is out of our apartment window. with a reflection of a paper snowflake in the window. We will often sit on the couch and just watch the snow or the people down below who are playing in the snow.
Yes Austen is eating Ramen in a cup. What else do college students eat? Actually she eats cold cereal too, but those are just about the only two things she normally eats…
One of the first couple times it snowed some of the guys from our apartment complex, I don't know who, decided that it would be fun to bombard our 5th floor window with snow balls so this is what happened:
This is actually the outside wall of the apartment across the yard from us. But we had at least 13 snowballs stuck to our window.

Thanksgiving! Wow not much happened between Halloween and Thanksgiving. I got a ride with a couple of people down to Provo for Thanksgiving. It was too far for both Bryan and I to go back to Las Vegas for Thanksgiving so we met in Provo instead. I stayed with Bryan's neighbor for a few nights and we hung out in his apartment during the day. On the day before Thanksgiving we made an apple pie, although Bryan would argue that he did the actual making of the pie while I only helped to peel apples. Doesn't it look delicious? I certainly tasted good.That night we went to a nearby apartment's game room/hang out space and played pool. That was fun too.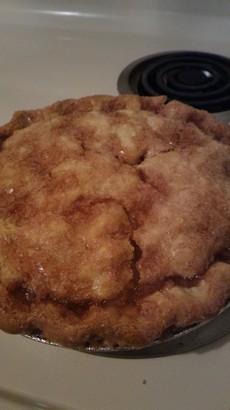 The day of Thanksgiving we drove up to Jessica and Marcus's house and ate dinner with the Harrison's. We passed the new Provo City Temple on the way up.
Here's some picture of Thanksgiving day:

Jason's peeling potatoes
and here we are just hanging out talking.

Jon decided that the stairs was a comfortable place to lay down… It really doesn't look all that great.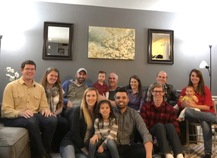 Here's all of us Sorry for the small picture. If I blow it up any more then it will be really blurry.
Dinner was fantastic! One of the only two REAL home-cooked meals I've since getting up to college. One of the things I'm looking forward to in a few days when I go home for Christmas. I cook make real food, but something is different when you don't have to make it yourself. hehe. Bryan and I got to their house at about noon and didn't leave until about 11. It was really good to see family.

Victoria had apparently gone to stay at Aunt Becky's house and had dinner with Susie, Michael, and Aunt Beckie in Provo as well.So the next day we all met up at Provo Beach Resort that was having a special sale for all day passes for Black Friday. Even Uncle Jon and Leslie's brother came with his family. So it was three family's of Harrison's and then Bryan, Me, and Victoria. It was a lot of fun. We did the ropes course, bowling, and laser tag.
This is Aunt Marilyn on the ropes course and Bryan with w bowling ball ready to bowl…He looks so excited doesn't he…?
Bryan had to work that evening at 8 so at about 3:30 we left and stopped at Sonic on the way home to get food and then we went to the dollar theatre in Provo and saw the Minions movie. It was super cute. After that we went back to Bryan's apartment hung out for a few minutes until he had to go to work and then I went back to where I was staying and spent the rest of the evening watch Arrow on Netflix. Great way to spend my time right? I left the following morning on Saturday to come back up to Rexburg. I was the first one back from my apartment and got back at about 4 PM. Stacy and Kayla both got back at about 11:30 and then the rest of our roommates didn't get back until Sunday.
Speaking of roommates we decided to take "Family Photos" with our NFHE (not family home evening) brothers. So we went down to Windsor Manor to take them because it was too cold to take them outside and we wanted something nice looking for the backdrop.Two people are missing from the photos, Brandon and Scotty. The rest of the boys waited patiently(some not so patiently…
while we arranged and rearranged the way we wanted the photos. I brought my camera to take them and despite the good quality the lighting still managed to make all of our hair seem like it was red…

This one is probably my favorite. If you want to see the rest of them they're on my Facebook page if you're friends with me. Otherwise I suppose I could always email them to you.
We've done other things this semester too. More specifically for FHE we've rented a puppy, played laser tag and mini golf, gone bowling, have a Mario Cart tournament, made brownies and cut out snowflakes, gone to see Mockingjay part 2, and played games. FHE was fun this semester.
The Pugs name was Duke

With some of our NFHE boys we've gone to the acoustic cafe/open mic night where Megan and Austen preformed some mashup's they put together, played "Murder in the Dark", gone exploring, we've gone on several "adventures"where we basically just end up going to McDonald's, watched many movies together either in their apartment or ours, gone to various parties, and just in general had fun.
As for roommates we have done almost everything together. We've had a couple of sleepovers in the living room, gone to parties, and had deep conversations late into the night. Megan has come up with all of our futures at 2 in the morning and then two second after finishing her monologue gone on to talk about something entirely different and weird. We also all went to see A BYU-Idaho Christmas with special guests of A Time For Three.
I'm missing a bunch of stuff. But If I don't remember it now I might later.
This week is Finals week. We're all stressing out about something. But it's been a great semester and I'll be sad to see everyone go. Fortunately though Austen and I are staying in the same apartment for winter and all of the guys from C203 are staying too except Scotty who's leaving on his mission, Brandon who's getting married at the end of this month, and Michael is moving to The Ivy. Ok so only half of the are staying, but it'll still be better than having to completely start over.
Hopefully I'll post again before then, but if not Merry Christmas!

posted at: 15:36 | permanent link to this entry
---
Fri, 04 Dec 2015
The first week
So I just updated yesterday, but I didn't put much on because I had other things that I was supposed to be doing.
The semester began with moving to Rexburg, and meeting my new roommates.
Mom drove me up Thursday night and we drove through the night to get there bright and early in the morning. We stopped and did some grocery shopping in Idaho Falls a half hour out of Rexburg and look how full the car was!
Okay it's a sort of bad picture, but I don't normally take selfies!… We drove up in Mom's Prius, so we were limited on space.We met up with the Wilkerson's when we got there and we went out to Winger's for dinner. I got a first… Chicken and Waffles. You should know how I can't resist breakfast food. It was really good.
Mom stayed in a hotel that night and left the following morning back to Henderson… It's been a while at least I'm fairly certain that's what happened…
The second night was i-night where we all went rollerskating, played in the bouncy houses(yes we're eighteen, but we're still children at heart), and we just had fun getting to know all of our quirky personalities.
Look at us in a photo booth. We're all there. Kayla, Stacy, Me, Austen, Erica, and Mega. I'm also not the only one going down that slide. Stacy was on the other side and we raced. If I remember correctly… she won.
After we had settled in we started classes on that Monday. Ah!!! Now that the first semester is almost over I feel a lot less panicky now. Haha.
That Sunday we went to church as an apartment and we met our FHE brothers on that Monday. Turns out that our bishop was mistaken and we were actually in a different ward. But we still hang out with our original FHE brothers they're now "The boys of C203". Our real FHE brothers are cool too, but they're a bit further away from our apartment so we really only do stuff with them on Monday nights. Sometime that first week we made it over to the new hang out spot… "The Burg"which sells burgers and shakes. get it? RexBURG and BURGers… haha - "The Burg" Anyway look at these ginormous shakes! They end up being about twice the height of the cups they're put in.
Within the first couple of weeks of starting school I finally turned 18!!!
Mom sent me to college with some candles, a cake mix, and frosting to decorate. The Sunday of my birthday also happened to be fast Sunday so when we got home from church we were all very hungry and we made chicken and dumplings and Stacy decorated my cake for me and then we ate it. Victoria even brought me over some cookies that she had made from Aunt Pam's recipe.
That night the was a lunar eclipse and we all (including the boys of C203) went up the the field by the temple to watch it. It was windy and cold that night but look at the sunset! It's beautiful. I didn't get a good picture of the eclipse though so I don't have anything to post for that.
It was fast Sunday that week because the following week was general conference. So…CINNAMON ROLLS!!!! Yummm!!!
They were quite tasty, but they were definitely different from cinnamon rolls I've had before. I used Grandma's roll recipe for the dough and then just an improvised middle. There was so much butter it kind of ended up deep frying the cinnamon rolls… hehe. Not really but all that butter probably accounted for why they tasted so good.
Before Halloween we did a couple of other things. One was we went to the sand dunes and sat by a bonfire. One of Kayla's group members from our American Foundations class invited her (and their other group members as well) and so we all went too, a couple of the guys of C203 also came. It was a pretty big bonfire.
Some time around that time we also went to the field across the street from our apartments with the guys and played kickball. That was fun. And one last thing we did before Halloween was we went to a masquerade ball that BYU-I put on. When we showed up it was super awkward because they had a live band who was playing Jazz… None of us could actually dance to that so we were just about ready to leave when someone said "remember that there is a photo booth in the other room" and we were all like, "What? There's another room?" So we went to another room in the Hart building where it was being held and it was much less awkward the rest of the night. After the dance ended a couple of guys who we where dancing with at the end asked us if we wanted to meet at the Burg in about a half hour giving us time to change our of our formal attire. So we did just for fun and to meet new people and they were both very nice. We ended up going to this place called 'Redneck Sups' because 'The Burg' had already closed by then. At 'Redneck Sups' the sell these sodas that are basically 4 or 5 flavors of soda mixed together. They were very good! As you can see a couple of us had our dresses shipped up to us by our wonderful parents who are willing to indulge our fantasies for a few hours. Mom shipped my prom dress up for me so that we could go all out. The day before the ball we went to the costume store (it was right before Halloween) and bought 99 cent masks to decorate.
Soon after this was Halloween and we went to a Halloween party with some of the guys of C203. Look at our costumes. I brought mine up with me from Las Vegas Red Riding Hood from the 2011 movie, but Austen is in the giraffe suit onesie, Stacy is a sort of witch…I think it's supposed to be from Vampire Diaries, but I don't watch that show so I don't know She mostly just went Halloweeny. And then there's Megan who went Indian, and Erica who went as a college student. Originally she was going as a cereal killer, but she didn't want to wear a whole bunch of make-up to make her look crazy, and then Kayla was Sherlock.
I'm going to do another post later about the rest of the semester after Halloween. This post actually turned out okay so let's see if I can post it now without deleting anything…
posted at: 19:40 | permanent link to this entry
---
Thu, 03 Dec 2015
First Semester
Clearly I still have some work to do considering I just posted the same thing twice… Haha.
I think these pictures are going to show up really tiny. But I wanted to start this blog with my first semester of college. A couple of summers ago I planned to start a quilt. The picture is of the colors I chose. Right before college started I finally finished the quilt!
Here's me working on it and then the final project.
Grandma Dill also made me a quilt as a graduation present
I'm glad that I brought both of them to college with me because It's cold up here in Idaho!I'm going to try to post a picture of the quilt she made later. Most of the pictures that I'm going to try and post will probably have already been on Facebook so if you've already seen them that's probably why. I have art homework to do so I'm going to end this very short post here for now and see how it turns out. Lets see how long it is before the next time I post. I hope it's not too long.
posted at: 17:14 | permanent link to this entry
---
First Semester
It's been five years since I posted last… My first semester of college is almost over, and so I decided that it's about time I learn how to use this blog.
posted at: 16:58 | permanent link to this entry
---
Sat, 01 May 2010
One and a half years and "School House Rock Live Jr."
---
---
Hey!
How is every one doing? I'm doing fine.
I'm writing on my Blog for the first time in… a YEAR AND A HALF! that is a long time.
Okay! So here's what's been going on …not much in my perspective. Well actually that is a lie.
In Dec. I had a choir concert.
On Easter we had an Easter egg hunt. Mom and Dad hid the eggs, then Bryan, Thomas and I (Melody) looked for them. Yes Bryan too.
Bryan is turning 17 this year, that is Scary! 17!!!!! He is turning 17 this month on the 11th. Thomas is turning 11 this year, in this month as well on the 21st. What is weird is that on the 22nd Kyrie (one of my cousins) will have her birthday but she is turning 12. So that means that she is one day less than a year older than Thomas.
Enough about birthdays. O.K.!
So… Last night I had a play/musical. It was "School House Rock Live Jr." . You my think it is for little kids but it is not. I thought it was fun being in the play. I was just in the chorus, but I still had fun. After the play there was an after party it was fun also. At the party we had pizza and soda. We played, I think it was called something like "Dance Factory" for the Wii. Then we did a karaoke thing for the Wii. Since it was at one of the cast members house we had a Wii. The party was till 11:30 P.M. .

Finally back to today. Today I mowed the front lawn the side yards and the flat part of the backyard. Bryan did the hard part, he mowed the hill in the backyard. The hill in kind of steep. More like way steep. He also weed whacked both the front yard and the backyard. I'd say we did an equal part of the lawn.
So is there anything else you would like to know.If there is let me know by e-mail or regular mail ( I like getting letters) . melody@hallmarc.net is my e-mail address.

I'm sorry I didn't put any pictures.

I'm hoping to write again soon!!
---
---
posted at: 15:30 | permanent link to this entry
---
"School House Rock Live Jr."
posted at: 14:40 | permanent link to this entry
---
Sun, 30 Nov 2008
A blog for me?
It's Melody! I'm writing this blog for all my cousins, other family, and friends. Since I was out in California I've started middle school. I like it. There are three teams at school: teal, gold, and purple. I'm on purple team. Purple team lets you do many things that gold and teal can't like chew gum in all classes but PE and music. I'm in choir. On Tuesday, I'm going to go to the high school auditorium to be in a Christmas choir concert. The three songs we are singing are all pretty. One of them is jazzy and the other two are calm. Most of my friends from elementary school ended up on purple team with me so that was good. I've also made many new friends. Middle school is fun.
On Thanksgiving, for dinner, we had turkey, rolls, cranberry jelly, and all the usual foods. My favorite food was the rolls with cranberry jelly. My Uncle Wayne and my grandma came from California to visit. I am going to post some recent pictures of me and the family.
We also got a cat at the end of summer. Her name is Runway.

posted at: 18:36 | permanent link to this entry
---
---
Melody Elizabeth Hall St. Peters, Missouri
Page created: 09 November 2008
Page modified: 09 December 2017